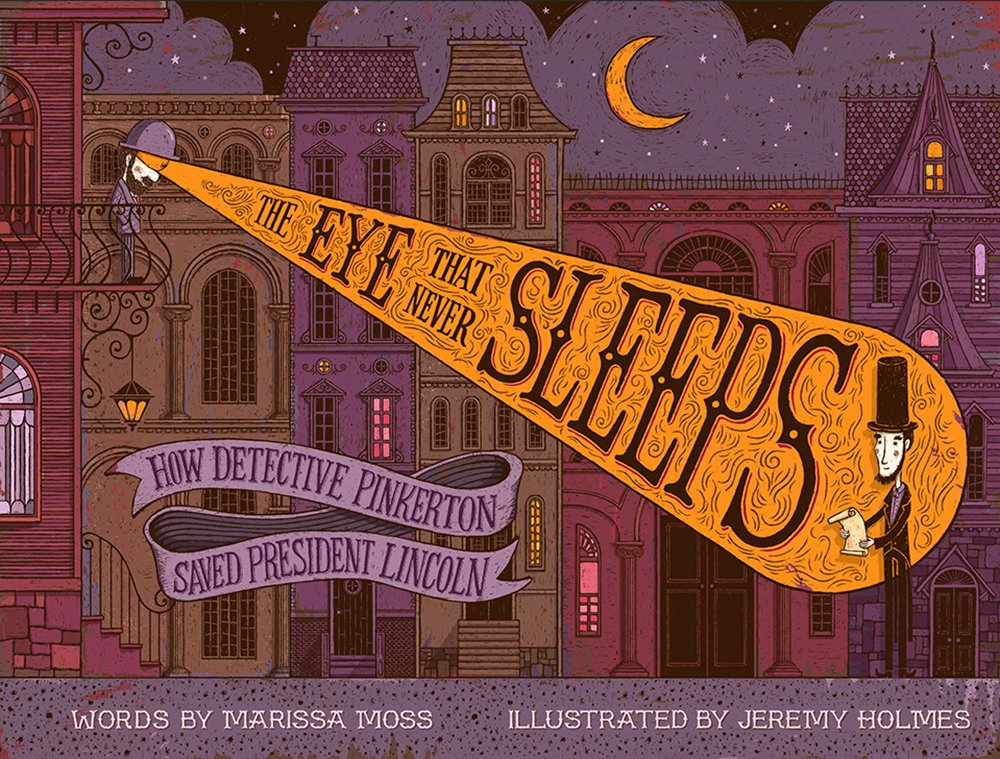 The Eye That Never Sleeps: How Detective Pinkerton Saved President Lincoln
Description
From award-winning author Marissa Moss comes the first children's book about Allan Pinkerton, one of America's greatest detectives. Everyone knows the story of Abraham Lincoln, but few know anything about the spy who saved him! Allan Pinkerton's life changed when he helped the Chicago Police Department track down a group of counterfeiters. From there, he became the first police detective in Chicago and established the country's most successful detective agency. He went on to solve more than 300 murders and recover millions of dollars in stolen money. However, his greatest contribution was protecting Abraham Lincoln on the way to his 1861 inauguration. Though assassins attempted to murder Lincoln en route, Pinkerton foiled their plot and brought the president safely to the capital. The Eye That Never Sleeps is illustrated with a contemporary cartoon style, mixing art and text in a way that appeals to readers of all ages. The book includes a bibliography and a timeline.
Awards

Publishers Weekly Best Books of 2018 Best Nonfiction Books Evanston Public Library and New York Public Library 2018 ALA Notable Book 2019 Notable Social Studies Trade Books for Young People 2019 CCBC Choices 2019 Best Children's Book of the Year, Bank Street College of Education 2019 Excellence in Graphic Literature Award 2019
Reviews
"Moss' prose is clear and engaging, filled with intriguing details . . .a thorough and compelling introduction to Pinkerton's work." (Kirkus Reviews) This quirkily illustrated biography of Allan Pinkerton, the man who created the Pinkerton agency, focuses on a thwarted assassination attempt of the newly elected President Lincoln. Born and raised in Scotland, Pinkerton began his career promoting workers' rights and eventually had to flee to the United States to escape the British government. A keen observer, he went on to start a successful detective agency, cultivating a growing reputation for professionalism and success. In 1860, he was hired by a railroad company to protect the line from secessionists who were threatening to blow up the tracks around Washington, DC. While investigating, Pinkerton uncovered a plot to ambush and kill Lincoln. Moss evokes a mysterious and exciting old-fashioned tale of espionage here. Holmes's carefully researched artwork, which he explains in a note, was inspired by newspaper mastheads, period fashion, and even board games from the era. The artist created a digital scratchboard to make the engaging illustrations, which are rendered in comic-style panels throughout, with a muted orange, brown, and violet color pallet. VERDICT A great pick for kids who can't get enough spy stories. Purchase in libraries where history and biography are in demand. — School Library Journal
Moss (Kate Warne, Pinkerton Detective) revisits the Pinkerton National Detective Agency, deftly folding the story of a thwarted assassination attempt on then-president-elect Abraham Lincoln into the larger tale of the famous agency's beginnings. Born in 1819, Allan Pinkerton, a poor Scottish immigrant to America, goes from barrel maker to Chicago police detective to the owner of the most successful detective agency in the U.S. by the 1850s. When secessionists conspire to shoot Lincoln during his train trip to his inauguration, Pinkerton and his agents foil the plot. Holmes (Secrets of the Dragon Tomb) employs a digital scratchboard technique for a woodcut look; the detailed illustrations invite detective like inspection, while the limited color palette and multi-paneled spreads evoke a graphic novel style. Bearded Pinkerton is depicted with orange glasses that cast a spotlight on whatever he eyes. With a narrative that moves along effortlessly, his history of the company whose eyeball logo inspired the term "private eye" will keep aspiring sleuths hooked with its intrigue. Ages 6-9. (Nov.) — STARRED review, Publishers Weekly
Before John Wilkes Booth discharged the fatal bullet that ended the life of Abraham Lincoln, there were other plotters with the same goal. Fortunately, there was also Allan Pinkerton, a Scottish immigrant whose chance apprehension of counterfeiters led to his establishment of a detective agency and who would be called upon to apply his thoroughly modern methods to foil an assassination attempt planned for Lincoln's inaugural train journey from Illinois to Washington, D.C. After addressing Pinkerton's early years in Scotland and Chicago, Moss turns to the plans of the would-be perpetrators and the intricate countermeasures devised by Pinkerton and implemented largely by his operative Kate Warne, the nation's first female detective. Lies were told, trains were rerouted, the President-elect was disguised and crammed into a far-too-short sleeper berth, Lincoln's life was saved, and the first iteration of the Secret Service would soon be born. As Moss's narration unwinds, Holmes offers engrossing digital scratchboard illustrations and period-inspired typeface that imbue the deadly serious action with more than a touch of drollery. Dusty mauves, violets, and browns dominate, while doll-like characters enact the narrowly averted tragedy on tidy sets, in cutaway train-car views, or spotlighted in the broad golden beams that emanate from Pinkerton's own keenly observant eyes. The visual style may differ, but there's a literary kinship with Pizzoli's Tricky Vic: The Impossibly True Story of the Man Who Sold the Eiffel Tower (BCCB 4/15) in the blend of information and delight. A timeline, author and artist notes, quotations notes, bibliography, and an index make this the real deal for history enthusiasts. — The Bulletin of the Center for Children's Books
STARRED review from School Library Connection for THE EYE THAT NEVER SLEEPS which will appear in the January/February 2019 issue. Moss, Marissa The Eye That Never Sleeps: How Detective Pinkerton Saved President Lincoln Allan Pinkerton had a sharp eye, a quick mind, and a desire for justice. After immigrating to the United States from Scotland, he became a successful barrel maker, and his observant eyes helped him dissolve a counterfeit ring. Authorities hired him for his sharp eye and understanding of human nature and behavior in order to solve other crimes. Soon Pinkerton had the best detective agency in the country. When President Lincoln took a train to Washington, D.C., for his inauguration, the Pinkerton Agency was hired to foil a plot to kill Lincoln. By using a second train and rerouting it along a diversionary route, Pinkerton is credited with saving Lincoln's life even before he was officially president. Few young people, besides history or Lincoln buffs, may know about this page in Lincoln's life, making the book a useful addition to libraries. The design of the book is also noteworthy. Holmes researched fashion, games, and newspapers to produce period-accurate cartoon illustrations. Digitally rendered scratchboard illustrations on dusty purple, brown, and orange backgrounds effectively recreate the Victorian era, though at times overwhelm the text. Interested readers can also look for Moss's other book about a Pinkerton agent: Kate Warne: Pinkerton Detective (Creston Books 2017).