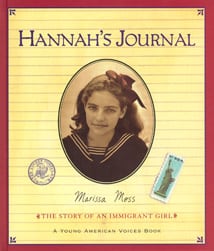 Hannah's Journal: The Story of an Immigrant Girl
Description
America! Hannah's small European village buzzes with tales of life in a faraway land free from persecution. Cousin Esther has passage for two aboard a ship bound for New York, and Hannah convinces Mama and Papashka to let her use the extra ticket. Will America really be everything they've dreamed of?
Awards

2001 Society of School Librarians International Honor Books
2001 Best Children's Books of the Year, Bank St. College
2001 Sugarman Family Award for Jewish Children's Literature
Reviews
From School Library Journal
Grade 3-5-Hannah, 10, is a Russian Jew who leaves home for America with her 14-year-old cousin Esther in 1901. From the start, the journey is fraught with complications. Since Esther was originally supposed to travel with 16-year-old Rivka, who died of influenza, the two girls must assume different identities to match the already obtained passports. After a perilous trip filled with intolerable sanitary conditions, storms, and other discomforts, Esther, Hannah, and their new friend Samuel arrive on Ellis Island only to spend an agonizing month waiting for officials to locate their sponsor. Finally, he is found and they begin their new life in New York. The journal entries have a hand-lettered appearance and are sprinkled with colorful drawings and asides. Children may be confused by the fact that Hannah makes it clear from the start that her ability to read and write both Hebrew and Russian is limited, and she doesn't yet speak or write English. The voice seems to ring true, but whose is it? Despite the fact that the lack of formal schooling that young girls like Hannah had available to them presents a quandary for this type of journal format, Moss does give her readers a real sense of the time in which the protagonist lived. Jane Marino, Scarsdale Public Library, NY Copyright 2000 Reed Business Information, Inc. –This text refers to the Hardcover edition.
From Booklist
Gr. 3-5. Inspired by the lives of Ellis Island immigrants, including the author's great-grandmother and great-uncle, this fictional diary purports to be the work of Hannah, a 10-year-old Jewish girl from Lithuania. It is 1901, and when pogroms threaten family and community, Hannah's parents seize an unexpected opportunity to send her to America. The journal documents a worried yet plucky Hannah's trip by train to Hamburg, her long and often unpleasant voyage to New York aboard a crowded steamship, her detention on Ellis Island, and her first experiences living and working in New York City. Readers who enjoy Moss' Amanda's Notebook series will find the same entertaining combination of childlike text and illustrations here. Like the other volumes in Moss' American Voices series, this book provides a vivid introduction to the period and a chance to vicariously experience the times through a most appealing character. Carolyn Phelan Copyright © American Library Association. All rights reserved