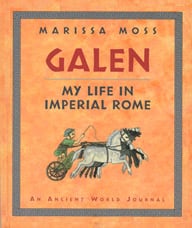 Galen: My Life in Imperial Rome
Description
The life of a slave is the only life that twelve-year-old Galen knows, and though he hopes for a better one, he's making the best of it. He practices painting whenever he can, finds adventures with his best friend, Micio, and just might solve a mystery that will improve the life of everyone around him–and change the course of history. Galen, from the acclaimed author of the Young American Voices series, is a riveting first-person account of a young boy's life in ancient Rome.
Awards

2003 Notable Social Studies Trade Books for Young People, CBC
Reviews
From Publishers Weekly (starred review)
Ably balancing fact and fiction, Moss (the Amelia's Notebook and Young American Voices series) uses her signature notebook-style jottings and drawings to launch the Ancient World Journal series. The fresh, diverting first-person account of fictitious 12-year-old Galen, an aspiring artist, describes life as a slave in the palace of Emperor Augustus. As the tale opens, Galen is living with his artist father and brother as slaves of Pollio, a pompous equestrian who bought Galen's father to have him decorate his villa. A dramatic incident occurs while the emperor Augustus visits the villa on his way home to Rome: Pollio threatens to kill Galen's brother when the boy accidentally breaks a treasured wine cup. Augustus, outraged by Pollio's cruelty, buys the family and takes them to Rome with him. The chatty narrator recounts the goings-on in the busy household (which includes Augustus's cold wife, Livia, and his scheming, bullying grandson, Agrippa) while providing a clear, intriguing portrait of ancient Roman life, with such customs as gladiator fights, chariot races and celebrations of the Saturnalia and the feast of Liberalia. Moss's marginal notes in Galen's engaging voice plus his sketches offer insight about food, dress ("Togas are impossible to drape by yourself") and hairstyles. Moss caps this account with Galen's climactic discovery of a plot to poison Augustus so that Iullus Antonius can become emperor. Youngsters will be so drawn into the story that they might not realize how much history they're learning along the way. Ages 8-12. Copyright 2002 Reed Business Information, Inc.
From School Library Journal
Grade 3-6-Galen, a 12-year-old Greek slave living in Augustus Caesar's household, is working alongside his father, a famous artist, decorating Livia's new house. When he discovers a plot to assassinate the emperor and his stepson Tiberius, he saves Augustus's life and gains freedom for himself and his family. Other than Galen, his family, and two others, all of the characters are historically accurate, as are many of the events. In the course of the story, youngsters will learn about slavery in Roman society, the members of the emperor's immediate family, how and where people lived, the foods they ate, chariot racing, gladiators, and more. The text looks handwritten and there are many small drawings (Galen's practice sketches), most of which have captions. One caveat: the varying size of the font may confuse readers. Sometimes the smaller font indicates a caption, sometimes the main text. Lynda S. Poling, Long Beach Public Library, CA Copyright 2002 Reed Business Information, Inc.
From Booklist
Gr. 3-6. This delightful book is rich in detail, from the endpapers with maps and glossary to the hand-lettered text with its profusion of small images in watercolor, gouache, and ink, all captioned. The conceit is that a Roman teenager has found a scroll written by his grandfather Galen in the year 2 B.C.E. Galen recounts his life as a slave and as a student of his artist father in the house of the emperor Augustus and Livia Drusilla, his wife. Descriptions of meals, chariot races, and household items and events are deftly woven into the thread of Galen's narrative. In a thrilling denouement, Galen helps uncover a plot to assassinate Augustus, spearheaded in part by the emperor's daughter. Moss' fictional characters inhabit the same historical space as many real ones, and her author's notes are fascinating, e.g., she advises that the young Agrippa Postumus was as nasty as she has portrayed him. Readers will be eager to pore over each vignette and bit of marginalia in this engaging historical fiction. GraceAnne DeCandido Copyright © American Library Association. All rights reserved