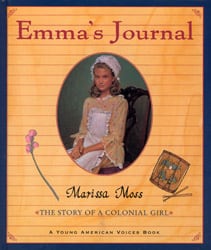 Emma's Journal: The Story of a Colonial Girl
Description
The year is 1774, and the British army has blockaded Boston. Ten-year-old Emma is stuck at Aunt Harmony's house in the city, far from her family. Emma desperately wants to help the American struggle for freedom. When Papa gives her a secret code the militia uses, she finally gets her chance to change the course of history.
Reviews
From Library Journal
Grade 3-5-Caught in the British blockade of Boston from 1774 to 1776 and separated from her family, young Emma describes the events she witnesses or overhears. While she works at her elderly aunt's boarding house, she meets or hears about such famous figures as Paul Revere, Benjamin Franklin, Patrick Henry, George Washington, and Dr. Joseph Warren, as well as British General Burgoyne, Governor Gage, and others. The story unfolds with secret messages, spying, snippets of rude songs printed in the margins that are sure to provoke giggles, and Emma's trials with the vain young Tory boarder, Thankful, who is in love with a British soldier. Emma's final entries tell of the reunion with her family and of the stirring reading of the "Proclamation of Independence" in July of 1776. As in Moss's "Amelia" journals (Tricycle) and her Rachel's Journal (Harcourt, 1998), information appears in tiny drawings or souvenir bits "pasted" in the margins. The handwritten text is eye-catching and printed on aged, lined yellow paper. An author's note separates fact from fiction, provides extra information on women spies in the Revolution, and reveals the author's sources. All in all, a seductive introduction to the period, especially for readers who remain neutral to textbook accounts. Susan Hepler, Burgundy Farm Country Day School, Alexandria, VA Copyright 1999 Reed Business Information, Inc. –This text refers to the Hardcover edition.
From Booklist
Like Moss' popular Amelia series, these books in the Young American Voices series are first-person handwritten" accounts told in journal form through words and childlike illustrations. The difference is Amelia is modern day, whereas the American Voices are historical. Emma's Journal records events in Boston from 1774 to 1776 from the point of view of 10-year-old Emma, who has been sent away from the family farm to help her Aunt Harmony and ends up helping the Revolutionary cause. Fresh and readable, the text offers a simple introduction to the times, while colorful, informal little drawings add visual appeal to the hand-lettered pages. The Young American Voices series, which includes Rachel's Journal (1998), will attract Amelia's fans as well children who have read the American Girl books. A prelude to longer, more challenging historical fiction. Carolyn Phelan –This text refers to the Hardcover edition.