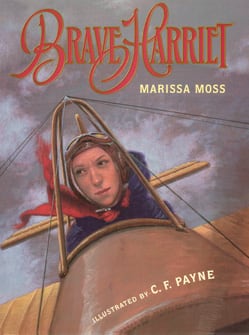 Brave Harriet
Description
On a clear morning in 1912, Harriet Quimby had a vision–she would become the first woman to fly solo across the English Channel. If she were to veer off course by even five miles, she could end up in the North Sea, never to be heard from again. But she took the risk, anyway. Bestselling author Marissa Moss and award-winning artist C. F. Payne team up to tell this little-known historic story of a spirited woman who dared to take flight.
Awards

2002 Notable Social Studies Trade Books for Young People: National Council for the Social Studies — CBC Joint Committee
2002 Starred Review, Booklist
2002 Books for Youth Top Ten Women's History Booklist
Reviews
From Publishers Weekly, starred review
The creators of True Heart once again laud a historical heroine with gentle restraint. Here they give pilot Harriet Quimby just the right note of quiet confidence: "I hadn't grown up wishing to be a pilot, because there were no planes when I was a girl, but once I saw one, I knew where I belonged there, at the controls, with blue sky all around me." Harriet wins her license from a skeptical board ("No woman has ever received a license to fly," a licensing official says), works as a barnstormer, then conceives the idea of crossing the English Channel. Her pilot friend Gustav Hamel tries to dissuade her, offering to fly for her in disguise; Harriet refuses. She completes her mission, but the sinking of the Titanic on the same day overshadows news of her success. "But it didn't matter, because I knew I had done it," she says. Payne's spreads resemble period photographs stop-action shots of wood-framed airplanes taken from striking angles, a newsboy reading the headlines about the Titanic and Harriet looking wistfully across the Channel, her skirt billowing in the wind. Pair this with Julie Cummins's Tomboy of the Air (Children's Forecasts, July 2) for a complete picture of the first women pilots. Ages 6-9. Copyright 2001 Cahners Business Information, Inc.
From School Library Journal
K-Gr 3-American Harriet Quimby was the first woman to pilot a plane over the English Channel. Unfortunately, this potential headliner was pushed into obscurity by a bigger event that took place at the same time-the sinking of the Titanic. Moss tells the aviator's story using a fictionalized, first-person narrative. The mixed-media depictions are large and inviting and fit in well with the setting and feel of the story. The cover shot shows Quimby competently piloting her plane. Her contemplation of the glory that might have been, if not for the tragedy of the Titanic, is sensitively portrayed on the last page where she is shown looking off into the horizon. An appended author's note hints at her death in a tragic air mishap. However, the focus here is on her adventuresome spirit. While not an essential purchase, this exciting story will find an audience especially among youngsters who enjoyed David A. Adler's A Picture Book of Amelia Earhart (Holiday, 1998). Anne Chapman Callaghan, Racine Public Library, WI Copyright 2001 Cahners Business Information, Inc.
From Booklist
*Starred Review* Gr. 2-4. This handsome picture book for older readers offers a memorable introduction to Harriet Quimby, the first woman to receive an American pilot's license and the first woman to fly solo across the English Channel. Not a biography but a vivid presentation of events, the book begins with Quimby's resolve to learn to fly an airplane and quickly comes to focus on her courageous Channel crossing and her experiences along the way. Her friend Gustav becomes the voice of doubt, trying to dissuade her from flying the Channel, even offering to disguise himself as a woman and make the flight in her place. Children will take heart from Quimby's firm resolve, and by the time the plane is in the air, they'll be right along with her for the dramatic flight. Moss writes effectively in first person, putting readers in touch with Quimby's dreams and determination through direct, vivid language. The mixed media artwork combines paints and pastels in a series of beautiful scenes, from impressionistic seascapes and skyscapes to more realistic and occasionally even romantic portraits of Harriet Quimby in flight or gazing toward the skies. A memorable book portraying a strong woman. Carolyn Phelan Copyright © American Library Association. All rights reserved