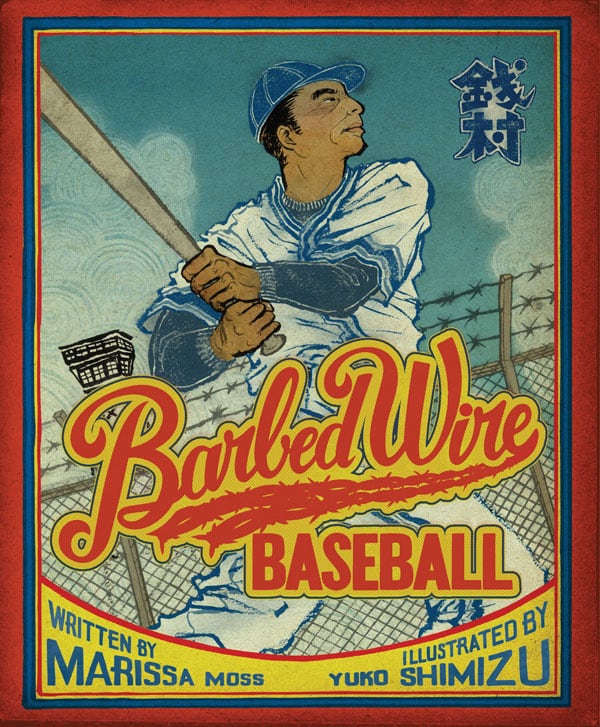 Barbed Wire Baseball
Description
As a boy, Kenichi "Zeni" Zenimura dreams of playing professional baseball, but everyone tells him he is too small. Yet he grows up to be a successful player, playing with Babe Ruth and Lou Gehrig! When the Japanese attack Pearl Harbor in 1941, Zeni and his family are sent to one of ten internment camps where more than 110,000 people of Japanese ancestry are imprisoned without trials. Zeni brings the game of baseball to the camp, along with a sense of hope. This true story, set in a Japanese internment camp during World War II, introduces children to a little-discussed part of American history through Marissa Moss's rich text and Yuko Shimizu's beautiful illustrations. The book includes author and illustrator notes, archival photographs, and a bibliography.
Awards

Junior Library Guild Selection 2013
Booklist's Top 10 Sports Books for Youth 2013
California Reading Association Eureka Honor Award 2013
ALA Notable Book 2014
Notable Social Studies Trade Books for Young People 2014
Asian Pacific American Librarians Association, Picture Book Honor 2014
California Book Award, Gold Medal 2014
Nominee for 2015 Beehive Award from the Children's Literature Association of Utah
Winner of the Museum of Tolerance 2014 Once Upon A World Children's Book award
Nominee for 2015 Towner Award, Washington State Student Award for Informational Text
2014-2015 Finalist for South Carolina, Children's Choice Award
Reviews
Kirkus Review, March 1, 2013
Kenichi Zenimura built a baseball legacy in the Japanese-American internment camps during World War II. Zeni grew up loving everything about the game of baseball and made a career as a successful player and manager in local leagues around California. Small but mighty, he played in exhibition games in Japan with the likes of Babe Ruth and Lou Gehrig. After Pearl Harbor, he and his family were sent, along with thousands of other Japanese Americans, to heavily guarded internment camps to live in barracks behind barbed wire. He was determined to provide a hint of normalcy and pleasure to his people amid the hardships, and what better way than to build a baseball field and organize teams. With hard physical labor and loads of ingenuity, he and his sons and fellow inmates did it all, creating a sense of community along the way. In language that captures the underlying sadness and loss, Moss emphasizes Zeni's fierce spirit as he removes every obstacle in order to play his beloved baseball and regain a sense of pride. Shimizu's Japanese calligraphy brush-and-ink illustrations colored in Photoshop depict the dreary landscape with the ever-present barbed wire, with that beautiful grassy baseball field the only beacon of hope. Much-needed biographical and historical information is provided in an afterword.