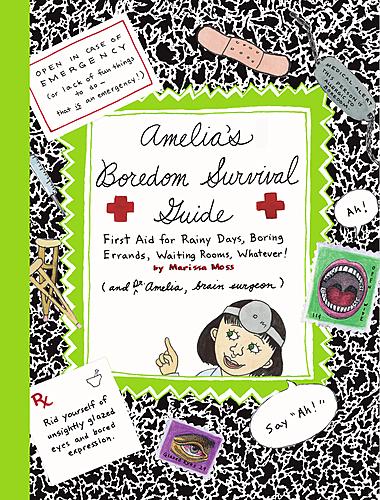 Amelia's Boredom Survival Guide: First Aid for Rainy Days, Boring Errands, Waiting Rooms, Whatever!
Description
While waiting for her sister's medical appointment, a bored Amelia creates a handwritten book of fifty suggestions for passing the time.
Awards

1999 SF Chronicle Bestseller List
Reviews
From School Library Journal
Gr 3-5-Amelia is back with another black-and-white marbleized notebook, this one filled with 51 things to do when bored. Making up jump-rope songs, listing good and gross foods, eye tricks, and creating certificates for family and friends are just a few of the activities suggested. Like the other "Amelia" titles (Tricycle), every lined, hand-written page is illustrated with full-color childlike drawings. The result is lots of humor, both visual and verbal, that will appeal to even the most reluctant of readers. But best of all, this young writer encourages others to create their own notebooks filled with suggestions for fighting the doldrums. Not a bad idea at all. -Linda Beck, Indian Valley Public Library, Telford, PA Copyright 1999 Cahners Business Information, Inc.