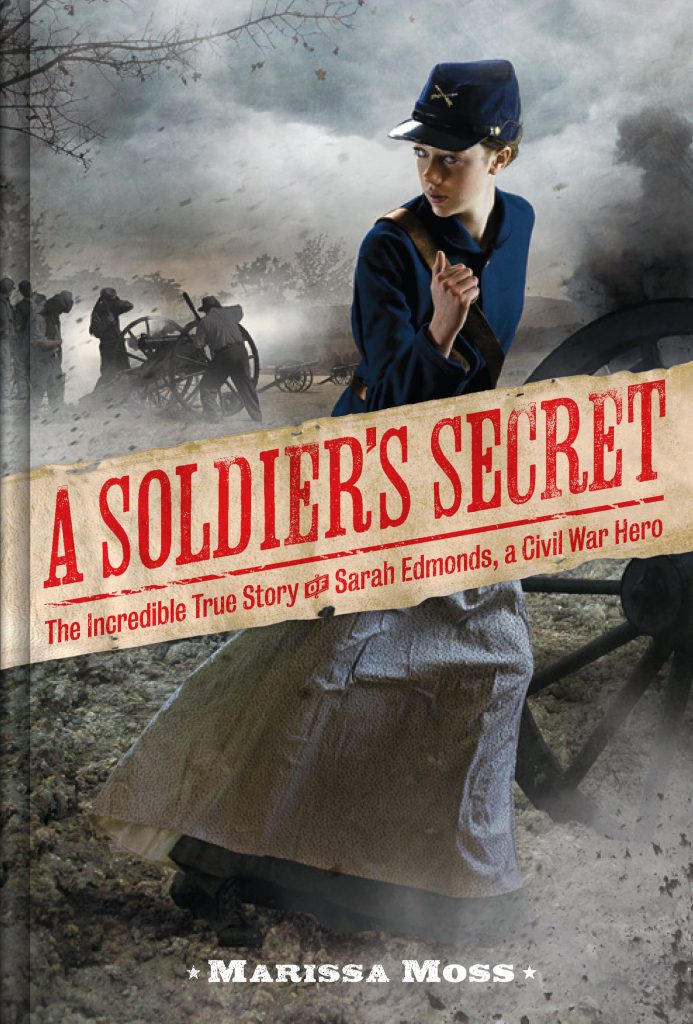 A Soldier's Secret
Description
Historical fiction at its best, this novel by bestselling author Marissa Moss tells the story of Sarah Emma Edmonds, who masqueraded as a man named Frank Thompson during the Civil War. Among her many adventures, she was a nurse on the battlefield and a spy for the Union Army, and was captured by (and escaped from) the Confederates. The novel is narrated by Sarah, offering readers an in-depth look not only at the Civil War but also at her journey to self-discovery as she grapples with living a lie and falling in love with one of her fellow soldiers. Using historical materials to build the foundation of the story, Moss has crafted a captivating novel for the YA audience. The book includes a Civil War timeline, archival photos, a glossary of names, and a detailed note on sources.
Awards

Amelia Bloomer Project Selection Nominee 2012
Reviews
"This fast-paced novel, part biography, part adventure and part love story, examines the remarkable life of Sarah Emma Edmonds as she toils through Virginia battlefields, secret missions behind enemy lines, and personal relationships, while searching for her own identity and her role in the changing American society. Moss brilliantly draws the reader into this fascinating story with intimate details, while exploring a variety of still relevant social issues including gender roles and relationships, equality, freedom, and patriotism. A Soldier's Secret is historical fiction at its best." Michael Oakleaf, Media Specialist Sunrise Elementary School
"A riveting look at the sweep and terror of the Civil War through the fictionalized account of Sarah Emma Edmonds, a real-life woman who fought, disguised as a man, for the North." Elizabeth Partridge, National Book Award Finalist
"Nurse, soldier, or spy? One thing's certain: Soldier's Secret is a thrilling ride!" Jennifer L. Holm, NY Times-bestselling author of Turtle in Paradise
"Moss combines fiction with biography in this compelling account of an extraordinary female Civil War soldier who disguised herself as a man. Many battles are graphically described, and the novel is crammed with atmosphere and detail." San Jose Mercury News
Starred Review, Publishers Weekly: Moss returns to the subject of her 2011 picture book Nurse, Soldier, Spy with a captivating piece of YA historical fiction based on the daring life of Civil War heroine Sarah Emma Edmonds. Sarah is raised on a farm by her abusive father, and she runs away before he can marry her off. Out of necessity, Sarah assumes the identity of a man, Frank Thompson, working as a traveling book salesman, among other odd jobs. At 19, she volunteers for the Union Army of the Potomac, with the aim of gaining the power and independence she's been denied. Sarah is grateful for the camaraderie and sense of purpose the army provides her, but she is surrounded by suffering and death. Her duties as a nurse, soldier, mail carrier, spy, and writer require her to don many isolating masks and to endure a long-unrequited love. Writing in a sharp-witted, picaresque style, Moss gives Sarah a candid and perceptive voice. Historical materials including letters, photographs, and a timeline further enrich an epic as adept at depicting Civil War horrors as it is at exploring the politics of gender.